Greeloy portable dental unit
is a product with so many possibilities as it combines all the essential elements to make a basic dental treatment in a compact and easy to carry suitcase. It is ideal for dentists who need to move their dental clinic to care for their patients, for those who are preparing a volunteer or for humanitarian aid institutions.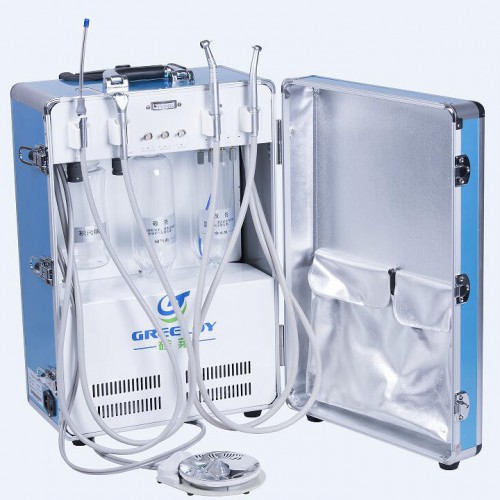 Portable Dental Unit with Air Compressor GU-P204
Externally the Carry On portable dental unit has three side closures to ensure it is safe and cannot be opened easily, ignition switch together with the connection to the electric current, two wheels, a handle to lift it and an extendable handle to move it comfortably and without any effort.
Once we open the suitcase we can see at first sight the 4 hoses with Midwest 4 connection without light. It includes a triple air/water/spray syringe and a suction hose for fluids, so we will have two other hoses with Midwest 4 connection to connect different rotary instruments such as: turbines, cavities, micromotors..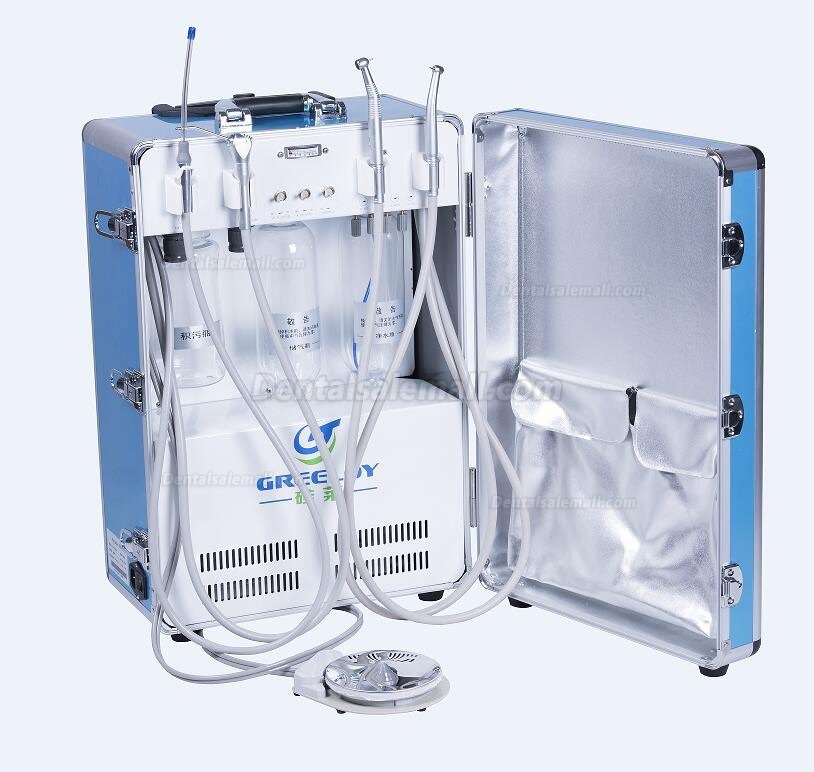 In the centre there are two bottles, one transparent for the distilled water and another white for the storage of waste water. Both have a capacity of one liter. In addition, it has a manometer at the top that will tell us what pressure we are working at. For high-speed rotary instruments the recommended pressure is between 0.18 Mpa and 0.22 Mpa and for low-speed rotary instruments between 0.28 Mpa and 0.32 Mpa.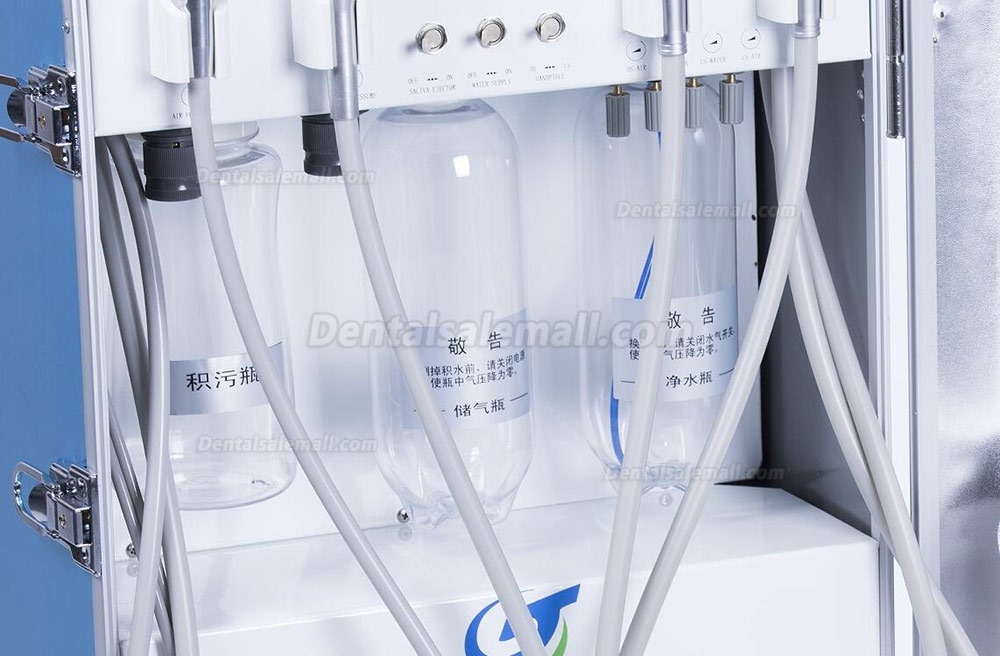 Below the manometer we can see 5 buttons:
1º Air Switch button: fills the water bottle with pressure.
2º Air flow regulation button: regulates the amount of air coming out of the unit hoses.
3º and 4º Water flow regulation Button: regulate the water flow of each hose.
5º H.P. Air Switch Button: air and water tap from one hose to another.
Finally, at the bottom there is a ventilation grate for the compressor and suction that are located inside the suitcase.
The operation is very simple, we just have to connect the equipment to the electrical current, press the power button and we will have it ready to work. It is advisable to read the instruction manual before starting to use the
dental portable unit with compressor
.
Tips on Choosing a Best Dental Extra-oral Vacuum Aspirator